Slow progress is being made on obtaining funding for additional Village Notice Boards. The aim is to stop 'fly posting' around the village which is unsightly and
I believe, illegal.
Initially, we are aiming to obtain funding for two notice boards which are priced at £877 20p each. They are hand crafted in English Oak and will be free
standing, weatherproof and lockable.
Details

Category: Residents' Forum
Read more: Progress made to date on obtaining funding for Village Notice Boards
Efforts to have another post box installed in a central part of the village are making some progress. James Heappey, the conservative parliamentary candidate for Wells has helped to organise a visit by a Royal Mail inspector who surveyed the village for possible sites. A potential site has been identified and the next step is to open negotiations with the landowner. This will be deferred for a little while since the family has suffered a recent bereavement.

Hugh Talbot
Details

Category: Residents' Forum
The next stage of the Consultation Process, for the North Ward, started Thursday night at the Wookey Hole Community Hall.
Details

Category: Residents' Forum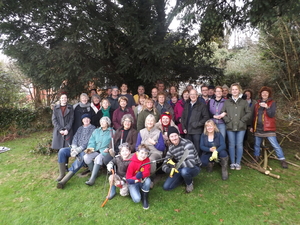 Sunday the 25th January saw a very successful day clearing the chuchyard in preparation for the St Mary Magdalene Community Garden. We had over 55 villagers, including 10 under 16's over the course of the day, helping to establish the area of ground available to us. We had the initial plans on display and this generated a good deal of discussion for future possibilities.
Details

Category: Residents' Forum
A few photos from the sell out Village 'Bring-and-Share' supper:
Details

Category: Residents' Forum
Wookey Hole Residents Forum
Committee Meeting, Wookey Hole Club
Tuesday 2nd December 2014, 7.30pm
Details

Category: Residents' Forum
Subcategories