The Commonwealth Graves Commission invited WI's to get involved in its' Living Memory Project 'in order to commemorate the centenary of the Battle of the Somme.It was suggested that we might visit the graves of WW1 soldiers who were buried in our locality and stage a commemorative event.

Wookey Hole WI took up the challenge and not only visited several graves in the area, but the grandchildren of our secretary made crosses adorned with poppies and messages and placed them on the military graves.Many of the soldiers would have died as a result of their wounds or influenza.

We expanded our tribute to the fallen by creating a WW1 exhibition which featured stories of our own family members and those of local people who were part of the conflict. A bring and share lunch at Wookey Hole gave us time
to view the fascinating and often poignant items.

The children who took part in our project not only learnt about the Battle of the Somme ,which took place from July - November 1916 ,but they were able to explore their own family history too.

Thanks to Wells Museum for introducing us to Andy Webb and Sue .They assisted us in our research and loaned us some amazing exhibits including a WW1 helmet, shells and other military items.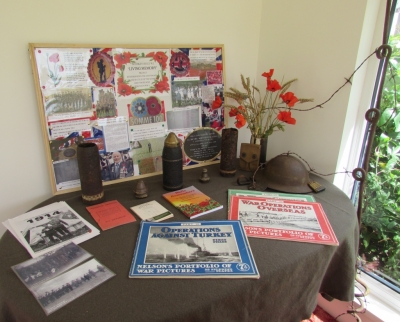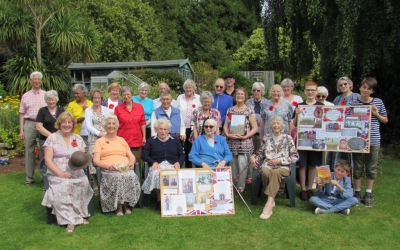 Jill Deane
Details

Category: Village Life
A CALL FOR SCONES................
Would you be able to make and donate some
Scones for the Cream Teas and Talent event
on the 27th August?
Any contributions will be gratefully received.
Contact Sue Lee This email address is being protected from spambots. You need JavaScript enabled to view it.
Tel. 01749 675326
THANK YOU
Details

Category: Notice Board
The Parish Council has floated the idea of erecting a flagpole in the village by the old bus shelter. This would be part of the celebration of the 150yr anniversary of the PC
If anyone is interested and willing to store the flags and hoist them on specified days, the PC would consider funding . erecting and insuring it.
Interested parties please contact the Parish Clerk. More information available from This email address is being protected from spambots. You need JavaScript enabled to view it..
This email address is being protected from spambots. You need JavaScript enabled to view it.
This email address is being protected from spambots. You need JavaScript enabled to view it.
Details

Category: Village Life
A CALL FOR PERFORMERS
We are looking for performers of all
sorts and all ages from Wookey Hole
to enter the talent competition to be
held on Bank Holiday Saturday 27th
August at our Church. Not just
musicians and vocalists but other
skills—stand up comedy, circus,
recitation, ballet, soloists, duets,
bands .............
Prizes include a slot in the Wookey
Hole Music Festival on 10 September.
Don't be shy. Register your interest
by contacting:-
Julia Scarth This email address is being protected from spambots. You need JavaScript enabled to view it.
Tel. 01749 672754 or
Lucy White This email address is being protected from spambots. You need JavaScript enabled to view it.
Details

Category: Notice Board
SOMERSET COUNTY COUNCIL
PARISH OF ST CUTHBERT OUT
Temporary Closure of Wookey Hole Road
TAKE NOTICE that in pursuance of Section 14(1) of the Road Traffic Regulations
Act 1984, as amended by the Road Traffic (Temporary Restrictions) Act 1991, the
County Council of Somerset have made an Order PROHIBITING ALL TRAFFIC from
proceeding along Wookey Hole Road from the junction with Glencot Road,
south-eastwards for a distance of 430 metres.
This order will enable Wales & West Utilities to carry out gas mains replacement
works in this road.
The Order became effective on 29 February 2016 and will remain in force for
eighteen months. The works are expected to commence on 06 June 2016 and last
for 4 weeks. While the closure is in operation an alternative route will be signed on site.
The formal notice can be seen here: RCNME7395-Notice3.pdf
Details

Category: Useful Information