The church is open daily for all to use for quiet and private contemplation.
Now, on Mondays 10.00am to 10.30 there will be Silent Meditation for people of all faiths or none.
Do come and benefit from the quiet, sacred space of our lovely village church and share silent companionship there.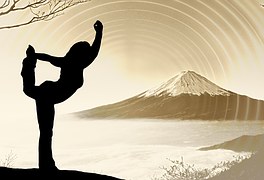 Details

Category: Notice Board
Wookey Hole Wildlife Blog for September. Les Cloutman
Hope you all enjoyed the summer break.
Global warming? Possibly but we seem to be getting more of the Hawk Moth family each year. Did you know we have elephants in our village – well OK the Elephant Hawk Moths, and their caterpillars.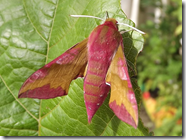 The caterpillars feed on willow herb so are quite likely to turn up in your garden (the above were in my garden this year).
When fully grown the caterpillar will crawl about looking for loose soil to burrow into to change into a chrysalis and wait for the next spring.
If feels threatened it will rear up and pretend to be a snake. Hopefully fooling the bird or other predator into leaving it alone.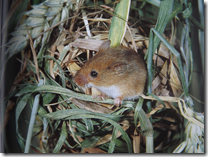 Although this summer presented us with a mixed bag of weather, August was good enough for our local farmers to bring in good harvest. Unfortunately one creature you won't in the harvest fields is the Harvest Mouse. Modern harvest methods and machines eliminated them from the fields long ago – we do still have harvest mice locally, although they are now confined to areas of long grass and reed beds. They are the smallest of our mice and acrobatically climb and nest among the reeds and grasses on the Priddy Mineries reserve. If you are lucky you will find their perfectly woven cricket ball sized nests. Large fires started by careless people using those horrible 'instant BBQs' devastated the Mineries last the spring and many harvest mice and other creatures must have died, but the site is large enough, hopefully, for mice to repopulate the regrown areas next year.
Les C
This email address is being protected from spambots. You need JavaScript enabled to view it.
Details

Category: Things to Do and See
A CALL FOR SCONES................
Would you be able to make and donate some
Scones for the Cream Teas and Talent event
on the 27th August?
Any contributions will be gratefully received.
Contact Sue Lee This email address is being protected from spambots. You need JavaScript enabled to view it.
Tel. 01749 675326
THANK YOU
Details

Category: Notice Board

The Commonwealth Graves Commission invited WI's to get involved in its' Living Memory Project 'in order to commemorate the centenary of the Battle of the Somme.It was suggested that we might visit the graves of WW1 soldiers who were buried in our locality and stage a commemorative event.

Wookey Hole WI took up the challenge and not only visited several graves in the area, but the grandchildren of our secretary made crosses adorned with poppies and messages and placed them on the military graves.Many of the soldiers would have died as a result of their wounds or influenza.

We expanded our tribute to the fallen by creating a WW1 exhibition which featured stories of our own family members and those of local people who were part of the conflict. A bring and share lunch at Wookey Hole gave us time
to view the fascinating and often poignant items.

The children who took part in our project not only learnt about the Battle of the Somme ,which took place from July - November 1916 ,but they were able to explore their own family history too.

Thanks to Wells Museum for introducing us to Andy Webb and Sue .They assisted us in our research and loaned us some amazing exhibits including a WW1 helmet, shells and other military items.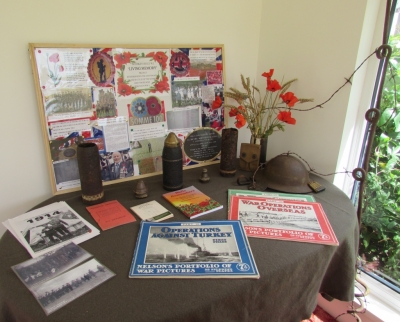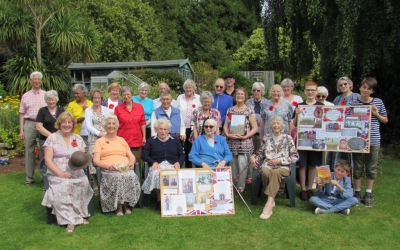 Jill Deane
Details

Category: Village Life
A CALL FOR PERFORMERS
We are looking for performers of all
sorts and all ages from Wookey Hole
to enter the talent competition to be
held on Bank Holiday Saturday 27th
August at our Church. Not just
musicians and vocalists but other
skills—stand up comedy, circus,
recitation, ballet, soloists, duets,
bands .............
Prizes include a slot in the Wookey
Hole Music Festival on 10 September.
Don't be shy. Register your interest
by contacting:-
Julia Scarth This email address is being protected from spambots. You need JavaScript enabled to view it.
Tel. 01749 672754 or
Lucy White This email address is being protected from spambots. You need JavaScript enabled to view it.
Details

Category: Notice Board