The farming and wildlife advisory group (FWAG) have sent us their useful leaflet giving guidance on slowing down water runoff from the fields around Wookey Hole.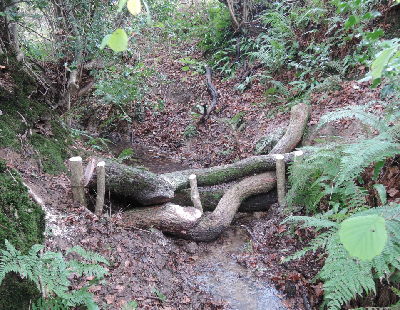 FWAG want us to install small log dams in ditches and water courses around the village.
These 'leaky' dams slow the flow of the water into the River Axe and help prevent flash flooding further down-stream.

Read more about it here:- debris_dam_leaflet_Somerset.pdf
Details

Category: Useful Information
You may remember that last year North Ward, (i.e. Wookey Hole and Easton and surrounding hamlets) was asked for our views on 'Planning'.

The intention was that the views of all the villages in St Cuthbert's Out would be incorporated into a Neighbourhood Plan, which would give all residents more say in what was, and what was not, allowed to be built in the community.

A Neighbourhood Plan was written incorporating all these views and sent to Stuart Todd, a Planning Consultant employed by the SCOPC Neighbourhood Plan group. Stuart has now given his opinion on the content and suggested some alterations so that the final Plan is compliant with the underlying Neighbourhood Plan legislation.
Details

Category: Residents' Forum
Can you see Santa? Can you guess where he was spotted? If you can, then add your answer as a comment on the bottom of this page.
Details

Category: Village Life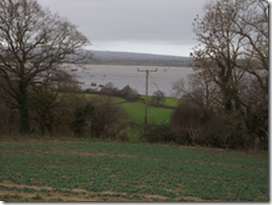 Picture – looking down on winter floods from high ground
Most of us can be pretty smug, not much of our village floods, but my heart bleeds for those poor people up north that have been flooded time after time. In Somerset it is a bit different. The levels are supposed to flood! If we are going to have more exceptional weather events as Global Warming accelerates it will happen again and again. Dredging to upper Parrett is only a partial solution – and will probably mean the water will rush off even faster and flood Bridgewater!
Details

Category: Things to Do and See
I hear there is a mink in the valley- they are devils and will kill anything they get near. They are not native and have no natural predators, apart from man. Some misguided animal liberators released them from mink farms and had a lot of adverse publicity a few years ago – but American mink were already well established in most of the UK long before that, as escapes or deliberate releases from uneconomic mink farms. (it is not commonly known that there were at least 30 farms in UK where mink were bred for the fur trade in disgusting conditions - till wearing of fur became unfashionable.
I have the skull of one in my collection that came up the Axe a few years ago – only to meet it's end by attempting to climb a drain pipe after swallows nests – but slid back down and drowned in the rain barrel !
All the conservation bodies in Somerset now have a policy of trapping the little brutes.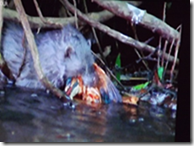 Picture – mink killing kingfisher from Halcyon River.BBC
So, apart from Mink, here is a wish for peace to all the Almighty's creatures and for the world in 2016
Happy Solstice/Christmas
Les C
This email address is being protected from spambots. You need JavaScript enabled to view it.
Details

Category: Things to Do and See