http://wookeyholecinemaclub.weebly.com
All films shown at the Community Hall. £6 adults Under 16's £3 Doors usually open 7pm Film show starts 7.30
See our website for trailers and more info.
Details

Category: Clubs
The Wookey Hole Club, built in 1884, has a long and colourful history. Minutes of the Club Committee are still in existence from its inauguration through to the present day, with only two periods, 1940-1949 and 1974-1980, having been mislaid. The content of these documents gives a fascinating insight into the recreational and social behaviour of village residents over the past century.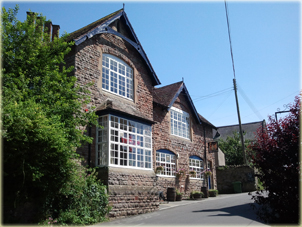 Details

Category: Clubs
Our June meeting started with a bang when the clock fell off the wall. Thankfully our speaker came to the rescue and order was restored.
The sunshine has certainly inspired us to make activity plans . In June we are visiting the Rural Life Museum for afternoon tea. Jill is hosting a coffee morning in July and Sue H is welcoming everyone to her garden in August.
We were delighted to hear that at least one of the bird boxes that we presented to Wookey Hole
Church has blue tits in residence. Hopefully there will be the flutter of tiny wings.
Our speaker Michael Malaghan treated us to an amusing talk .He has written children's books for 25 years but has also been a Journalist, written scripts for TV, and been a fiction writer for women's magazines .He told comical tales of his experiences in Pompeii, Naples, Capri, Malta and France.
Many of his 'adventures' gave him the ideas and inspiration for his many books. He was thanked by Sue H for his entertaining talk.
The flower competition with it's array of blooms demonstrated how lovely our gardens are.
1st Jill 2nd Lavinia 3rd Pat. The holiday souvenir competition gave our resident china pig a moment of glory when she was accidentally awarded second prize. She collects 'Pennies for Friendship' each month. After some adjustment it was 1st Jill 2nd Rose 3rd Sue H. Thanks to all who took part.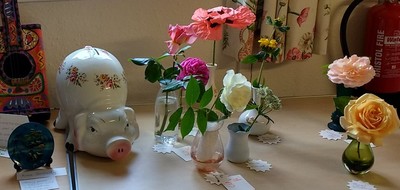 Details

Category: Clubs
A few years ago Lucy White was invited to think of a social club that could be useful in Wookey Hole in gathering people together for enjoyable times.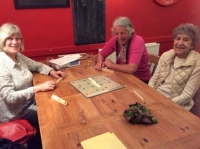 Lucy loves playing Scrabble and wanted to find likeminded people so started a Scrabble Club by delivering notices about it door to door .
Details

Category: Clubs
Report of the May 2018 meeting of Wookey Hole WI
It has been such a busy year, it was almost a relief to arrive at the peaceful haven of our annual meeting, so that we could sum up all that has been achieved over the last twelve months. Last month we had the excitement of the Somerset Federation of WIs Centenary parade through Wells. We proudly carried our recently completed banner in the company of hundreds of fellow WI members behind the band and the Town Crier. And a contingent of our hard working ladies, together with members of Wells WI, womanned the tea and cake tables, and the notable quantity of washing up, in St Cuthbert's Church. Two days later we relaxed, chatted and laughed over a delicious lunch at West Horrington to celebrate our own WI's 71st anniversary. 1947 is just within memory for some of us, but we seldom admit it.
At our meeting, President Jill Deane welcomed Lynne and Alison from Croscombe WI, who were present in an official capacity to oversee the election of our new committee and President. We thanked those committee members who had decided to retire, and welcomed the fresh contingent. Jill was re-elected unopposed as President. The Croscombe ladies also kindly judged the competitions, selecting with difficulty their favourites among a beautiful collection of garden flowers, and braving a selection of drawn and painted imaginary animals that you certainly wouldn't want to encounter in a dark alley.
Rose Docherty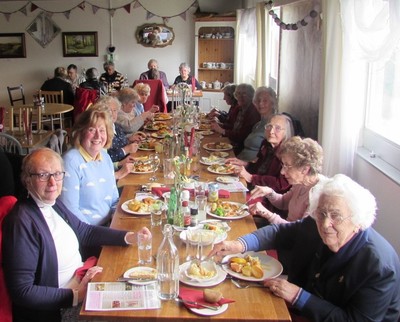 Details

Category: Clubs