Jill welcomed everyone back after the Christmas holiday although our numbers were deplete mainly due to illness .
Members were thanked for the extra items that they had given to the Food Bank. We were told that extra parcels were able to be provided to those in need over the Christmas period.

It was Resolution voting time and we quickly completed our choices.

Our speaker was Christina Blackwill who demonstrated 'The Great British Shake Off'......Keep Fit with Shakers. Tina visits many different groups and she soon had us joining in with her as we shook our shakers in time to the music. She was careful to warn us not to move any parts of us that hurt and several of us made a mental notes to protect our vulnerable 'bits' . We didn't need to worry though as it was fun , gentle and enjoyable. It was probably the nearest thing we shall get to being Cheer Leaders !

Pauline J thanked her for an entertaining afternoon .

The competition to make a pom-pom reminded us of the cardboard milk bottle tops that we used in the past . There was even a hole in the middle for the straw.

1st Jill D ....2nd Pat B.....3rd ....Myrtle S

Flower of the Month. 1st Elizabeth R ...2nd Jill D.....3rd Pat B

It appears that our gardens are still providing lovely blooms.

Jill Deane Wookey Hole WI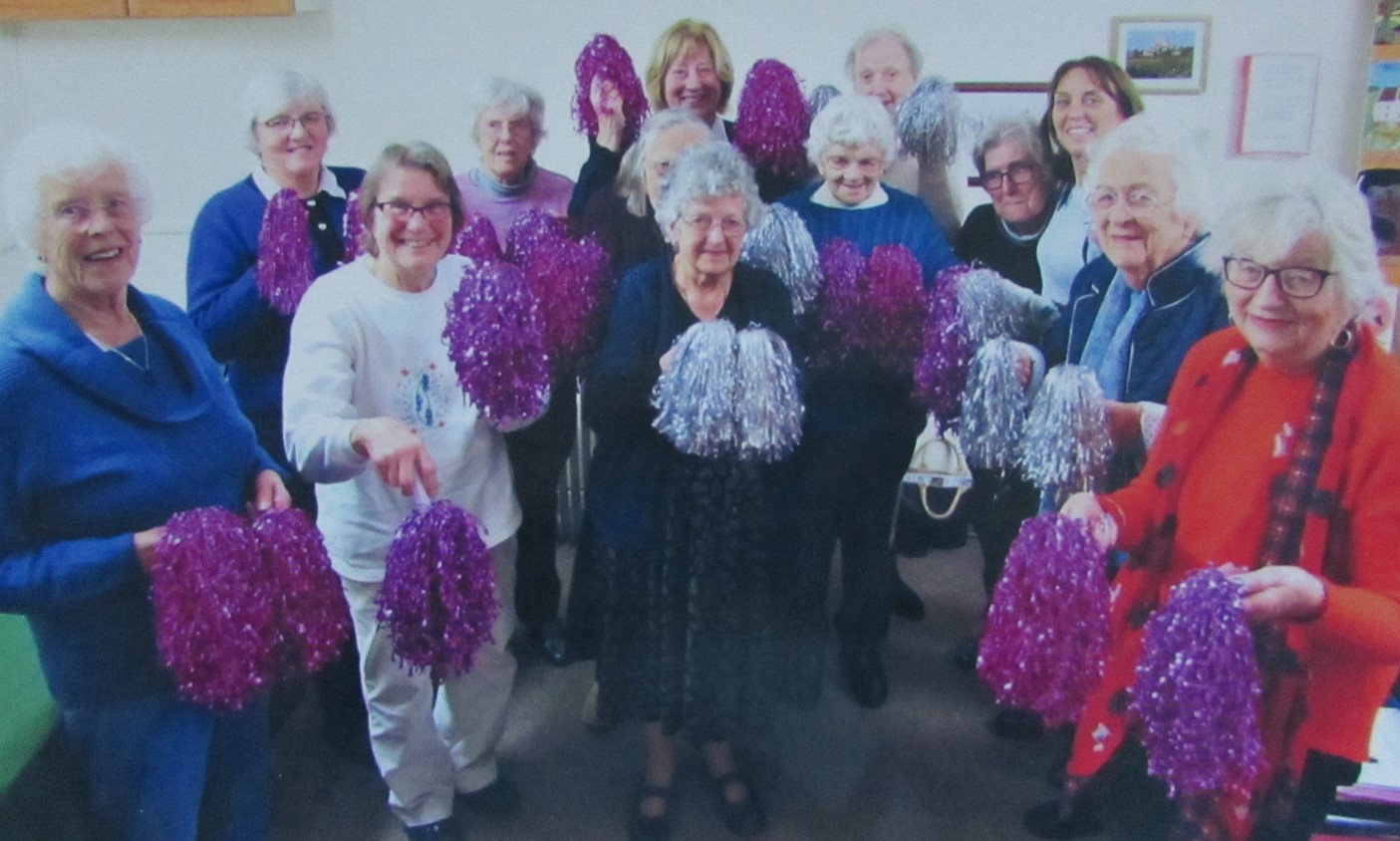 Details

Category: Clubs
WOOKEY HOLE W.I. NOVEMBER REPORT
The Nov meeting was well attended and best wishes were sent to one of our members who had broken her arm.
Five of us had attended the recent SCFWI Annual Meeting and our delegate Sue H updated our members.It was an informative day with some excellent speakers including Jenny Bond.
Myrtle and Sue B proudly carried our banner in the opening parade.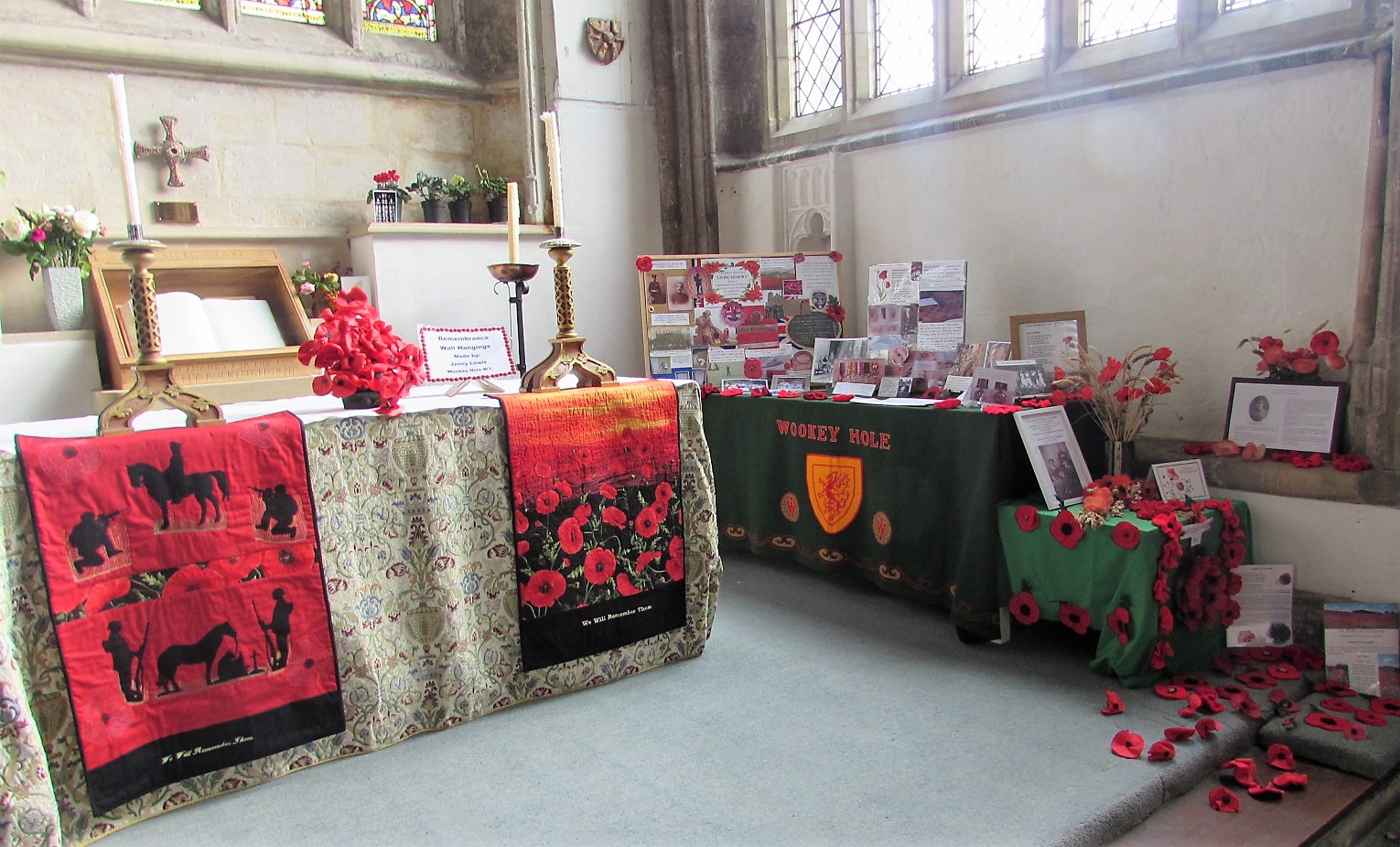 Once again our W.I. are displaying a memorial tribute in St Cuthberts Church Wells. Personalstories have been told and Jenny has made two beautiful Remembrance Wall Hangings.
Numerous poppies were made from wool, felt, silk and even red serviettes.We included a tribute to animal victims of war. Jill thanked everyone for their contributions.
Our Speaker was Stewart Sheppard who clearly loved his varied interests. With the aid of a musical quiz he took us through the changing years from WW2 , Teddy Boys, Mods and Rockers and the Beatles.
As a collector of 'junk' he showed us items from these era's that most of us would have thrown away. He has found items in skips that have proved to be quite valuable.
Amid much laughter Sue B thanked him for entertaining us.Stewart judged our competition to make a recycled item 1st Sue B..2nd Lesley R..3rd Jill
Our gardens are still producing lovely blooms 1st Jan....2nd Pat ...3rd Jill
Jill reminded everyone to continue to bring Christmas treats for the Food Bank.
Jill Deane Wookey Hole WI. Photograph attached.of the Wookey Hole WI tribute
Details

Category: Clubs
Report of the May 2018 meeting of Wookey Hole WI
It has been such a busy year, it was almost a relief to arrive at the peaceful haven of our annual meeting, so that we could sum up all that has been achieved over the last twelve months. Last month we had the excitement of the Somerset Federation of WIs Centenary parade through Wells. We proudly carried our recently completed banner in the company of hundreds of fellow WI members behind the band and the Town Crier. And a contingent of our hard working ladies, together with members of Wells WI, womanned the tea and cake tables, and the notable quantity of washing up, in St Cuthbert's Church. Two days later we relaxed, chatted and laughed over a delicious lunch at West Horrington to celebrate our own WI's 71st anniversary. 1947 is just within memory for some of us, but we seldom admit it.
At our meeting, President Jill Deane welcomed Lynne and Alison from Croscombe WI, who were present in an official capacity to oversee the election of our new committee and President. We thanked those committee members who had decided to retire, and welcomed the fresh contingent. Jill was re-elected unopposed as President. The Croscombe ladies also kindly judged the competitions, selecting with difficulty their favourites among a beautiful collection of garden flowers, and braving a selection of drawn and painted imaginary animals that you certainly wouldn't want to encounter in a dark alley.
Rose Docherty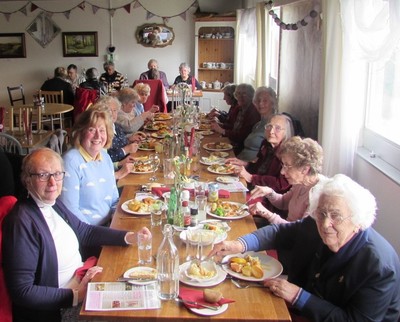 Details

Category: Clubs
Our June meeting started with a bang when the clock fell off the wall. Thankfully our speaker came to the rescue and order was restored.
The sunshine has certainly inspired us to make activity plans . In June we are visiting the Rural Life Museum for afternoon tea. Jill is hosting a coffee morning in July and Sue H is welcoming everyone to her garden in August.
We were delighted to hear that at least one of the bird boxes that we presented to Wookey Hole
Church has blue tits in residence. Hopefully there will be the flutter of tiny wings.
Our speaker Michael Malaghan treated us to an amusing talk .He has written children's books for 25 years but has also been a Journalist, written scripts for TV, and been a fiction writer for women's magazines .He told comical tales of his experiences in Pompeii, Naples, Capri, Malta and France.
Many of his 'adventures' gave him the ideas and inspiration for his many books. He was thanked by Sue H for his entertaining talk.
The flower competition with it's array of blooms demonstrated how lovely our gardens are.
1st Jill 2nd Lavinia 3rd Pat. The holiday souvenir competition gave our resident china pig a moment of glory when she was accidentally awarded second prize. She collects 'Pennies for Friendship' each month. After some adjustment it was 1st Jill 2nd Rose 3rd Sue H. Thanks to all who took part.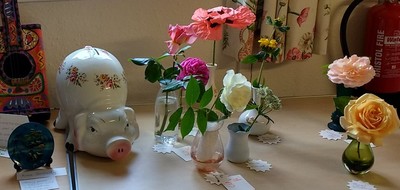 Details

Category: Clubs
Report of the April 2018 meeting of Wookey Hole WI
President Jill Deane welcomed members and our speaker to the April meeting, which saw the unveiling of our newly completed banner. The design incorporates not only the famous cave and witch, and the date of the founding of Wookey Hole WI seventy one years ago, but also the colours of the suffragist movement which resulted in the granting of the vote to some women for the first time a hundred years ago. Jill thanked the members of the working party who had worked very hard to a tight time schedule to have the banner ready for us to carry it in the Somerset Federation Centenary Parade through Wells on 28 April this year. She also presented each of them with a souvenir mug featuring a photo of the banner.
Our speaker Miss Angela Pitt told us how she had volunteered to work at a Giant Panda rescue centre in China. While she was there she fed and cleaned up after a number of the bears, and took many candid photographs of their rather lazy life. Interestingly, the panda, as well as five fingers, has an extra thumb to help in grasping the stems of bamboo. She admitted that she once made what could have been a very dangerous mistake, in trying to hand feed one bear with an apple, she was bitten on the hand. Luckily there was an ambulance nearby and she was treated very quickly. Pandas have enormous appetites for their almost exclusively bamboo diet, each eating in a day as much as a man can carry. The rescue centre needs its own plantation of bamboo just to keep pace and cater to just six adult bears and a baby. The Chinese people value the panda very highly, to the point of obsession, some even dye the coats of their dogs to match the markings. Souvenir toys are available everywhere, and we remember that the panda was the mascot of the Beijing Olympics a few years ago.
She was thanked enthusiastically by Anne, who confessed to being a lifelong collector of panda related items since her first childhood soft toy.
Rose Docherty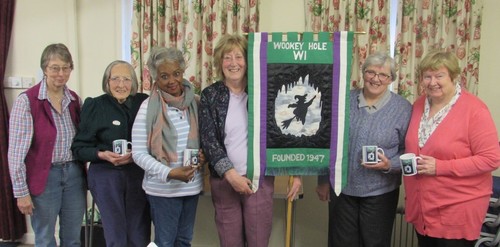 Details

Category: Clubs