Our June meeting started with a bang when the clock fell off the wall. Thankfully our speaker came to the rescue and order was restored.
The sunshine has certainly inspired us to make activity plans . In June we are visiting the Rural Life Museum for afternoon tea. Jill is hosting a coffee morning in July and Sue H is welcoming everyone to her garden in August.
We were delighted to hear that at least one of the bird boxes that we presented to Wookey Hole
Church has blue tits in residence. Hopefully there will be the flutter of tiny wings.
Our speaker Michael Malaghan treated us to an amusing talk .He has written children's books for 25 years but has also been a Journalist, written scripts for TV, and been a fiction writer for women's magazines .He told comical tales of his experiences in Pompeii, Naples, Capri, Malta and France.
Many of his 'adventures' gave him the ideas and inspiration for his many books. He was thanked by Sue H for his entertaining talk.
The flower competition with it's array of blooms demonstrated how lovely our gardens are.
1st Jill 2nd Lavinia 3rd Pat. The holiday souvenir competition gave our resident china pig a moment of glory when she was accidentally awarded second prize. She collects 'Pennies for Friendship' each month. After some adjustment it was 1st Jill 2nd Rose 3rd Sue H. Thanks to all who took part.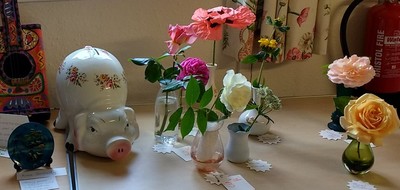 Details

Category: Clubs
Report of the May 2018 meeting of Wookey Hole WI
It has been such a busy year, it was almost a relief to arrive at the peaceful haven of our annual meeting, so that we could sum up all that has been achieved over the last twelve months. Last month we had the excitement of the Somerset Federation of WIs Centenary parade through Wells. We proudly carried our recently completed banner in the company of hundreds of fellow WI members behind the band and the Town Crier. And a contingent of our hard working ladies, together with members of Wells WI, womanned the tea and cake tables, and the notable quantity of washing up, in St Cuthbert's Church. Two days later we relaxed, chatted and laughed over a delicious lunch at West Horrington to celebrate our own WI's 71st anniversary. 1947 is just within memory for some of us, but we seldom admit it.
At our meeting, President Jill Deane welcomed Lynne and Alison from Croscombe WI, who were present in an official capacity to oversee the election of our new committee and President. We thanked those committee members who had decided to retire, and welcomed the fresh contingent. Jill was re-elected unopposed as President. The Croscombe ladies also kindly judged the competitions, selecting with difficulty their favourites among a beautiful collection of garden flowers, and braving a selection of drawn and painted imaginary animals that you certainly wouldn't want to encounter in a dark alley.
Rose Docherty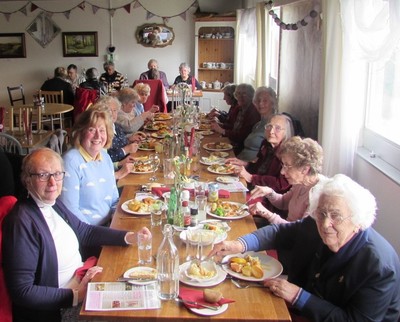 Details

Category: Clubs
Report of the March 2018 meeting of Wookey Hole WI
The snow deposited by the Arctic weather of last week was happily thawed by the time we met
for our March meeting. President Jill Deane welcomed our speaker, Mr Ian Caskie, a visitor
services volunteer for the SS Great Britain. His slide presentation covered the history of the ship,
'From launch to re-launch'.
Although Isambard Kingdom Brunel had never built a ship before, his engineering experience
with the Great Western Railway led to his being contracted to build four wooden paddle steamers
for the British Steamship Company. The first ship Brunel built was a paddle steamer, the Great
Western, but her performance persuaded Brunel that the design and materials were
unsatisfactory for ocean use, so he completely rethought his ideas. The amount of wood required
to reinforce a ship for rough seas was, unexpectedly, very much heavier than a much thinner and
stronger iron hull. Also, an engine propelled by a screw was more efficient than paddles, which
lifted from the water in heavy seas.
In spite of initial doubts, the design worked well, but the ship was unfortunately caught up in a
series of unexpected adventures, that would not have been anticipated by Prince Albert who
attended her launch. Having started as a luxury passenger liner, an unfortunate grounding on a
beach in Ireland started her on a downward spiral, as salvaging her bankrupted the owners. For
some time she went back and forth to Australia transporting gold miners and other migrants in
less than luxurious conditions. She was also a troopship during the Crimean War. Use as a
cargo vessel with all her fittings stripped out, led to an eventual further grounding in the Falkland
Islands, where she was used as a warehouse before being scuttled and abandoned.
Since 1970, when she was rescued as a rusting shell and towed back to her original dock in
Bristol's Floating Harbour she has been conserved, very expensively. Many innovative
techniques have been used to present her as a museum that illustrates all the phases of her
chequered life. Opening this month is a new addition on the quayside, a museum devoted to
Isambard Kingdom Brunel, which will add even more interest to the tourist and educational
experience. Ian told us that part of his purpose in speaking to groups such as ours is to raise
funds for the continued maintenance, especially the gas bill for the dehydration plant in the base
of the ship.
Myrtle thanked him for his very enlightening and fascinating talk. Ian judged our competition,
which in honour of the SS Great Britain, was for nautical themed items. As befits an island nation,
members came up with an astonishing variety of memorabilia, including a Russian sailor's cap.
The WI is always a surprise.
Rose Docherty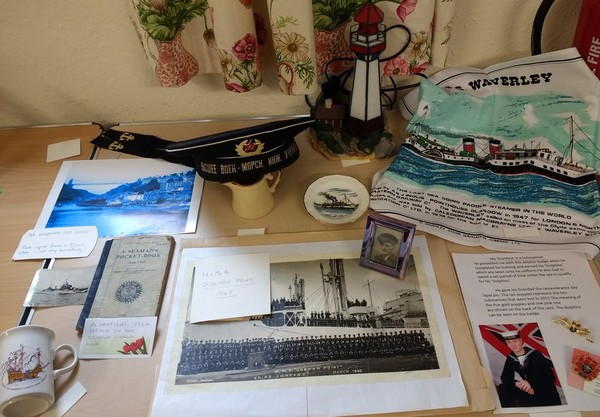 Details

Category: Clubs
Report of the April 2018 meeting of Wookey Hole WI
President Jill Deane welcomed members and our speaker to the April meeting, which saw the unveiling of our newly completed banner. The design incorporates not only the famous cave and witch, and the date of the founding of Wookey Hole WI seventy one years ago, but also the colours of the suffragist movement which resulted in the granting of the vote to some women for the first time a hundred years ago. Jill thanked the members of the working party who had worked very hard to a tight time schedule to have the banner ready for us to carry it in the Somerset Federation Centenary Parade through Wells on 28 April this year. She also presented each of them with a souvenir mug featuring a photo of the banner.
Our speaker Miss Angela Pitt told us how she had volunteered to work at a Giant Panda rescue centre in China. While she was there she fed and cleaned up after a number of the bears, and took many candid photographs of their rather lazy life. Interestingly, the panda, as well as five fingers, has an extra thumb to help in grasping the stems of bamboo. She admitted that she once made what could have been a very dangerous mistake, in trying to hand feed one bear with an apple, she was bitten on the hand. Luckily there was an ambulance nearby and she was treated very quickly. Pandas have enormous appetites for their almost exclusively bamboo diet, each eating in a day as much as a man can carry. The rescue centre needs its own plantation of bamboo just to keep pace and cater to just six adult bears and a baby. The Chinese people value the panda very highly, to the point of obsession, some even dye the coats of their dogs to match the markings. Souvenir toys are available everywhere, and we remember that the panda was the mascot of the Beijing Olympics a few years ago.
She was thanked enthusiastically by Anne, who confessed to being a lifelong collector of panda related items since her first childhood soft toy.
Rose Docherty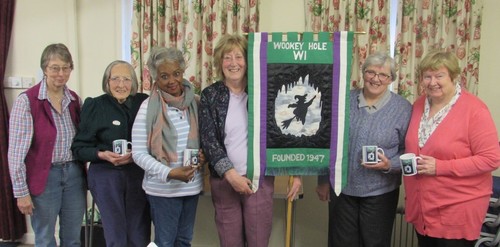 Details

Category: Clubs
Report of the February 2018 meeting of Wookey Hole WI
Jenny reported that the first meeting of the working party that is to make our banner has decided on a design, and that two members, Sue B. and Aileen will be sewing the vital pieces, the cave and the witch. The borders will incorporate the Suffragette colours of green and purple to commemorate the granting of limited voting rights to women in 1918. We plan to carry our banner in the Parade through Wells that is planned as part of the Somerset Federation of WIs Centenary celebrations.
Vice President Sue Harding presided over the meeting, welcoming our speaker, Mr Alan Hale. He treated us to an entertaining account of his time, back in the last century, in the police force in Bristol. In the course of his career he encountered a wide variety of incidents and people, not to mention animals. Which included a goat that was tempted, with peppermints, into the back of the patrol car in order to pass the problem to the mounted section, which had suitable accommodation for it.
He started out as a cadet, in spite of failing the college exams that he was expected to pass. At that time patrols were on foot, and records of incidents and observations were kept in hand written books. Cadets were sometimes used as nuisance crowds, to train the horses of the mounted section.
He progressed through the bicycle without gears stage, to small panda cars, which were notoriously slow, to large and fast traffic patrol cars. Along the way were many training courses, including advanced motoring and horse riding. Although he managed the latter to the stage of jumping low obstacles without stirrups, saddle or reins, the theory was another matter. He didn't ride for pleasure afterwards as his wife, being an A and E nurse, had seen too many results of riding accidents.
One of the most rewarding parts of his later career was liaison with schools, he once answered a 999 call, and found that the child who answered the door already knew him from his visit to her school, and was reassured by his presence.
Since his retirement he has been kept busy with council work and the Baptist Church magazine, which relieves him of the need to garden or do DIY. He was thanked by Elizabeth, who remembered the days when each district and each village had their own police officer.
Rose Docherty
Details

Category: Clubs