As some of you may kntow there is an ongoing butterfly count recorded in annual National statistics and we,here in the Mendips,do a regular weekly count for this record of a fairly extensive patch of our Mendip hills territory ,initially under the able leadership of Leslie Cloutman, and thrillingly joined some 6 years ago by an esteemed specialist in this branch of natural history ,an ex Royal Marine soldier but also a butterfly and moth enthusiast since the cradle, I believe. He is called Captain Peter Smith and although now coming up to his 90th birthday has never missed an opportunity to help us record the current population and identify any rarities blown into our section of the Mendips.
We divide our territory into 9 "transacts," as they are called,ie 8 fields and a path and the walk takes about 2 hours. The months we do this are from April1st till October 1st and It must be done weekly between the hours of 10 and 4 ie butterfly flying times,although I notice many out at later hours! The weather temperature has to be above 13 degrees and there are minimum requirements of actual sunshine. Sometimes it is a complete nightmare getting a day with enough sun in the week, and carrying on life around the timing of the butterfly appointment.
This week however was an easy choice for today Sunday 9th as we knew well in advance that the weather would be gorgeous.
Caroline Tetley and I have done this for ten years and as I am mid 70s and a little arthritic in one hip I am looking for younger teams to replace me.
Today there were indeed interested parties and although Caroline could not be with us we were joined by Colin Babb and Joanna Davey and Rebecca Hayes,luckily all really interested.
We had a beautiful walk,clear blue sky ,100% sunshine, mist in the distance but clarity all around and got quite a respectable tally for so early in the season. There were Speckled Woods,Orange Tips, one Holly Blue, Peacocks ,iBrimstones and one or two whites in too much of a hurry for safe identification. It is important to be certain and if there is an unusual find then a photo is required for confirmation of accuracy. We have marvellous charts in laminated form,invaluable for getting to know each species.
We climbed all the styles and had a very energetic but enjoyable time going very near the top and Les filled us in with the orchids and other beauties to be found in our path.
I have felt very privileged,if a bit stretched!, to do this tallying of our wonderful butterflies
Lucy White
Details

Category: Village Life
Expecting your Winter Fuel Payment? Don't need it? Donate it! Surviving Winter is an award-winning campaign that encourages people to donate some or all of their unwanted Winter Fuel Payments to other people in their communities who need it most. A Surviving Winter grant doesn't just pay for extra heating. It's hand delivered by one of our small number of trusted local partners, like Mendip Credit Union, Rotary Frome and Citizens Advice Mendip. A Surviving Winter grant becomes the foundation for a new relationship that can help overcome the isolation and loneliness that many older people experience. With the support of over 300 donors, Somerset Community Foundation was able to provide vital grants to 390 older people to help them through last winter. Please help us grow this campaign to reach every isolated and vulnerable household in the county.
To find out more about Surviving Winter, please visit: http://www.somersetcf.org.uk/winter.To donate some or all of your Winter Fuel Payment, please send a cheque made out to Somerset Community Foundation (SW written on the back), Yeoman House, Bath and West Showground, Shepton Mallet, BA4 6QN. You can also donate online or call 01749 344949. Gift Aid forms are also available to download on the website. Thank you for making a difference to an elderly person in your community this winter!
Details

Category: Village Life
Les Cloutman
The Equinox is passed and days are getting shorter, but nature is still very active - in fact in many ways creatures go into overdrive feeding up before the stark hunger times of winter.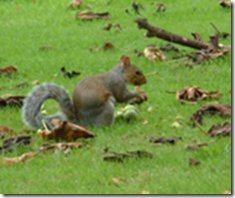 Busy Squirrel
For me October is mushrooming time.
Fungi (for many the term fungi and mushroom are interchangeable) are neither plant nor animal but in a kingdom of their own. Popping up in the fields or through the fallen autumn leaves. They add colour and excitement to dull autumn days. They form an essential part of nature's recycling process breaking down plant material from leaves to fallen trees to minerals for next year's growing plants. Many trees have an even closer 'symbiotic' relationship, with particular fungi providing chemical defences and breaking down cellulose, which enables them to absorb nutrients.
Fungi can also be a feast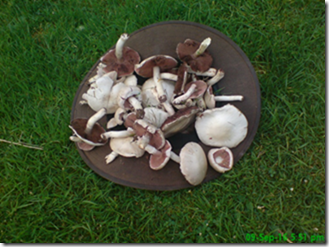 A hat full! - Picked from a local field this September.
I have eaten about 30 different sorts since coming back to Somerset in 1990 - but I never give advice on edibility, even experts can make mistakes, and I don't claim to be an expert! The same applies to the internet – please don't rely on the internet for positive identification -mistakes can be unpleasant! That said, fungus foraying in our local woods can be a great day out.
I am leading three forays in October, the nearest is at Stock Hill Woods on the Mendips. Meeting in the Stockhill Car Park at ST550512.
8th Oct. Start at 2.00pm. Cost £2.50 under 16s free. It is arranged by the Polden Hills Group of the Somerset Wildlife Trust – so for further information contact Anne Lees on email This email address is being protected from spambots. You need JavaScript enabled to view it.
Details

Category: Village Life
Very many thanks to everyone who supported
the Crazy Golf Evening in aid of Wookey Hole
Community Hall—a profit of £140 00p was made.
We all had a great evening and are grateful to
Wookey Hole Caves Ltd. for allowing us to host
the event— the support they gave us was
fantastic.
Details

Category: Village Life