Ladies Club meets next on the first Tuesday in November (2nd) 2.30-4pm. We will be making decorations under the guidance of our lovely Sue Williams. She sells her own cards in Wells and is great with getting us non-artists making amazing decorations.



Wookey Hole Ladies Club started as a church group of ladies, run by the then vicar's wife, in the early 70s. Meetings were held in the evenings in church. These days we meet in the village community hall, although we no longer have a connection with the church. We still have some founder members living in the village. Subscription is £3 per year and £2 per meeting, this covers the village hall rent, fees for speakers and members' refreshments.
We normally meet on the first Tuesday of the month, from 2.30-4pm; in July we have our annual outing and in August we meet in a member's garden for tea and cakes. In December we have our annual Christmas lunch in a nearby pub.
The committee meets at members' homes three times a year to discuss forthcoming events and set the programme for the next year, which coincides with the academic year, September to September. We currently have 23 members and new members are always welcome, including ladies from outside Wookey Hole. We have speakers on subjects such as avoiding scams, local history, bats and equestrian experiences. Our next meeting is on November 2nd at the Wookey Hole community hall, when we will be making decorations with the expert help of our local artist. We would love to see new ladies there.
Linda Danson, Secretary, Wookey Hole Ladies Club.
Details

Category: Clubs
Wookey Hole CC will be playing a fund raising friendly against the World Famous Paul Nicholls Racing Club
Bank Holiday Sunday 29th August 2021 at 2pm
at Wookey Hole Ground off Titlands Lane
Will the Racing Elite rein in the Witch Inspired Village Team or will they trot over the finishing line?
With England's Jamie Overton in attendance, the afternoon is set to beat the thrills & Spills of The Hundred
Play starts at 2pm followed by an auction on Paul Nicholls memorabilia
Everyone Welcome
Details

Category: Things to Do and See
New application for 148 more houses on Wookey Hole Rd
A planning application for outline planning permission for 148 new homes adjacent to Underwood Business Park, opposite the new Bovis Development on Wookey Hole Rd has recently been submitted to Mendip District Council. The application number is 2019/2883 and this is a link to it
https://publicaccess.mendip.gov.uk/online-applications/applicationDetails.do?activeTab=summary&keyVal=Q1QN9AKPK3M00 .
Because of this application, our Parish Council have changed the venue of their next Planning Committee meeting at 7pm on Wednesday 18th December to be at Wookey Hole Community Hall instead of Coxley. The Parish Council will decide at this meeting if they will be recommending to Mendip District Council approval or refusal for the application. It would be good if as many residents as possible could attend. It would be helpful if anyone wishing to speak at the meeting (max 3 mins) could write to the chairman, Marcel Hayden This email address is being protected from spambots. You need JavaScript enabled to view it., before the meeting. Comments and questions during the course of the meeting will be accepted at his discretion.
Representations to Mendip District Council should be made by 26th December at the latest.
Details

Category: Notice Board
Dear Residents
The effects of the coronavirus look likely to result in greater disruption to our everyday life. The Residents Forum want you to know that if you are being affected by the restrictions brought about by the Coronavirus epidemic, you are not alone. Rest assured that there are many people in the village willing to help out (with shopping for example) if you find yourself affected by these issues. Also, it might be that being stuck inside for days you might want to just have a chat with someone. The following people have said they are happy to help in whatever way they can, so if you find yourself in need of help in some way do give one of us a ring.
Residents Forum Committee
Julia Scarth 672754
Sarah Mardle 672005
Sue Lee 675326
Sarah and Charlie Chambers 674078
Doug Robinson 678271
Hugh Talbot 679678
Roger Hancock 673032
Chloe Parrish

The following have also contacted us to say they would be happy to help too
Katri Healey 678057
Melitta Izzard 678786
Ivor and Caroline Tetley 677282
Best Wishes to all
Wookey Hole Residents Forum
Details

Category: Residents' Forum
Messiah brings Christmas joy to Wells
Enjoy an uplifting festive experience like no other, when Messiah comes to Wells Cathedral on Saturday 7th December.
In their annual performance of Handel's great work, Wells Cathedral Oratorio Society will be accompanied by some of Europe's finest period instrument musicians in the Music for Awhile Orchestra, led by Jean Paterson. The soloists are Elizabeth Atherton (soprano), Tim Morgan (countertenor), Peter Auty (tenor), and Ben McAteer (bass). The Conductor is Jeremy Cole.
The Oratorio choir says: ''This concert is truly a wonderful musical experience and we know that audiences really feel the joy of the Christmas season when they hear it - and indeed become part of it during the Halleluja chorus.''
Concert: Saturday 7th December, 7pm prompt.
Tickets
£14-£30 online at
www.wcos.org,
by phone 01749 834483 or at the Wells Cathedral Shop (01749 672773).
This popular event is expected to sell out so the advice is to book early.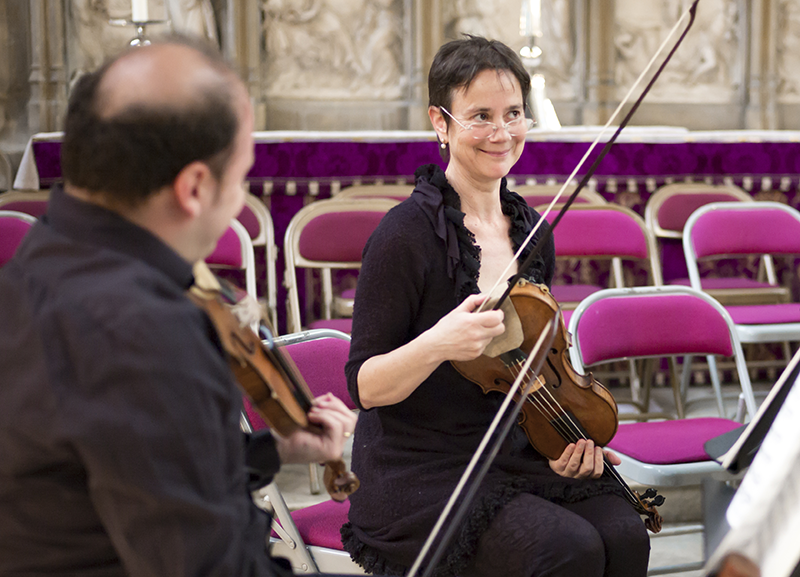 Details

Category: Things to Do and See