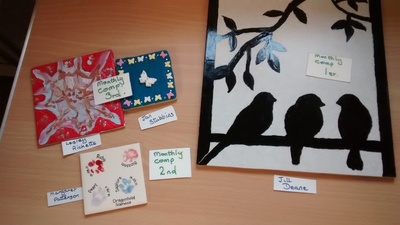 President Jill Deane welcomed our speaker for October, local artist Phillipa Threlfall, who told us about her career in mosaic making. For more than fifty years Phillipa has been enhancing public spaces all over the country, and beyond, with her murals. Although we are familiar with the local ones that adorn our local Tesco stores, she also showed us pictures of more unfamiliar ones from elsewhere.
Her career came about more by accident than design, as her original speciality at college was illustration, but she had a second string in ceramics. Her work in standard teapot-like three dimensions not being as satisfactory as she and her tutor hoped, it was suggested that she try to work on the flat, and her subsequent commissions sprang from that.
She does a great deal of research for her designs, she incorporates as much as possible of the history of the place, buildings of note, local industry, distinguished people and maps, street plans and coats of arms.
Her early work was very massively concrete, and needed a considerable amount of heavy lifting to install. But after her marriage her husband, Kennedy Collings, was able to help with techniques and new materials that he'd learned about while working for Clarks. So she was able to get up from the floor where she'd been doing a great deal of kneeling, and stand to assemble her pieces on a vertical support of polystyrene, and use various resins and fibreglass.
Some of her earlier work has been demolished or otherwise disappeared in the redevelopment of the buildings and streets on which they were displayed. Some have been rescued and moved, not always with happy results, the toads of Taunton were vandalised in their new home. One rescued piece from Bristol is still fragmented in her studio as a new home hasn't yet been found for it.
We are all very familiar with her smaller work, the terracotta tiles sold at The Black Dog adorn many of our doors, the 'Very fine cat' is particularly popular. Although none of us aspire to her skill, four bravely artistic members entered our competition for a decorated ceramic tile, which Phillipa kindly judged for us.
Lesley R. thanked Phillipa for her fascinating and entertaining talk.
Rose Docherty