| | |
| --- | --- |
| | |
| Woodcock | and Snipe |
There was a Woodcock in the Valley yesterday. They have incredible camouflaged, and on a woodland path they will sit tight till you almost tread on them. Woodcock used to breed up at the Priddy Mineries but it is many year since I last heard, usually in spring at dusk, the males grunting flight. I often see them in local Wookey Hole woods – but not normally till the cold of midwinter drives them down from the higher Mendip Woods this one is very early.
Snipe Are more social than the Woodcock' they look very similar – but are smaller and with a disproportionately long bill. Last year there were quite a few up at the Priddy Mineries pools for much of the winter , but the best chance of seeing them is on the levels reserves like Westhay Moor or Ham Walls. Their fast zig zag flight flying away is unmistakable.
The Ash is another of our tree to be threatened by an imported fungus disease 'Ash Dieback' !
On the continent it is reported to have wiped out over 80% of ash trees. It is now spreading through Britain and earlier this autumn I heard it had reached the Shepton Mallet area. Ash is our commonest tree over much of Somerset and is dominant in Mendip woodland. I just could not image or woods without it. So far there is no cure – but genetically Ash is very varied so there is still a chance for some of our English trees. We won't know if it has reached us till the leaves are out next spring.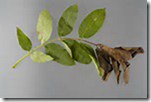 Look out for the ends of the leaf spray withering and browning. It usually affects the younger trees first. Older larger trees seem to have some resistance but it weakens them and, over a number of years, they are open to Honey fungus and other diseases.
This email address is being protected from spambots. You need JavaScript enabled to view it.