5. Wookey Hole Wildlife - Late September
The Indian Summer is fading away , as I write the Mendips are shrouded in mist .
Every season has its pluses and minuses and Autumn is the time for mushrooms! Since I moved back to Somerset 25 years ago I must have eaten 30 species of fungi. Some are edible and excellent, some very indifferent – but I would never advise anyone on which to eat and which to leave alone. There are literally thousands of similar species and some can do serious harm, even the experts can come unstuck and I am no expert.
Below are two to leave alone!
1. The Fly Agaric, Amanita muscaria is usually found under birch trees. The Lapp people for centuries have used this to induce visions – but it can lead to a deathlike state and eventually to the heart stopping altogether.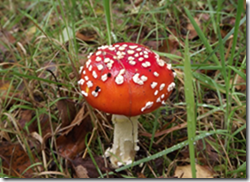 Unfortunately not all are that easy to identify: 2. Most 'field mushrooms' look the same, having a whitish or brown cap that peals easily and brown gills and are good to eat, but beware the one below - the
Yellow Stainer – or The Sickene
r, Agaric zanthodermus – found on the fields around Wookey Hole and one to avoid. It looks like a field mushroom, but when the cap or the base of the stype (stem) are broken it stains yellow (older, drier specimens may not turn immediately.) and has a more 'acid' smell.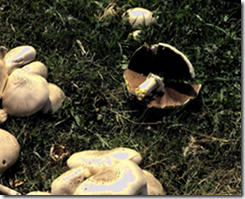 That said, there are several organised fungus forays at this time of year with an expert, and they can be a great occasion for socialising and hunting in the woods. Look out in the local press – or for Somerset Wildlife Trust members the walks programme.
Wild Harvest thanksgiving.
There is such an abundance of wild foods in the autumn
I tend to put on weight in the autumn - with humans it is our downfall - we can eat well all the year! In nature it is essential as they prepare for the hard times ahead. Dormice, squirrels, bats and hedgehogs are busily feeding up before their food supplies disappear. (I just wish the grey squirrel, which is not a native – would leave some hazel nuts for the rest of us!)
Les C.