WOOKEY HOLE W.I. JANUARY 2020 MEETING REPORT

We had a good attendence despite the seasonal colds taking it's toll. Lavinia gave an excellent report on the AGM that took place at Wellsprings.

Nearly £800 was collected at the meeting to help flood victims in the North of the Country.

Jill thanked everyone who had taken part in the various W.I. Christmas activities. These included shoe box gifts for
the YMCA, seasonal 'goodies' for the food bank and taking part in the WI Carol Service in Wells Cathedral. Wookey Hole W.I. had also created an impressive display of Nativity related items at the renowned ativity Festival in St Cuthberts Church in Wells.

Our speaker was Westbury-sub-Mendip W.I. member Nicky Amos. She has become a National Trustee and told us of the
W.I. journey that has led to this position. She has had a productive and inspiring life spending much time in the Middle East where she worked in banking and raised her two children. However twenty years ago she and her family returned to England and settled in Westbury -sub- Mendip.

A rather enthusiastic W.I. neighbour encouraged her to join the W.I. and so it all began. She found friendship and an introduction to the local Community. Her involvement grew and she was invited to go on an Environmental Awareness course. This led to the Public Affairs Committee which she eventually found herself chairing. She was
already a Trustee of Almshouses and now she was a Charity Trustee for thw W.I. Both were quite different.

She has now progressed to the position of National Trustee. This is again a different challenge involving a large team of
personnel and much travelling and comittment. No doubt Nicky will tackle her new role with determination and dedication .The W.I. is a very important part of her life and we are proud of her achievements.
Pat thanked her for her inspiring talk . She judged our competition for a W.I. article .1st Jill.. 2nd
Rose..3rd Pat. Flowers were 1st.Sue B..

2nd Myrtle...3rd Sue H.

If you are new to the area and have read about what belonging to the W.I. has done for Nicky . please come along and meet us. 1st Monday of the month.

2.30pm at Wookey Hole Community Hall. You will recieve a warm welcome.

Jill Deane.
Photo attached of the
Wookey Hole WI display at the Nativity Festival in St Cuthberts Church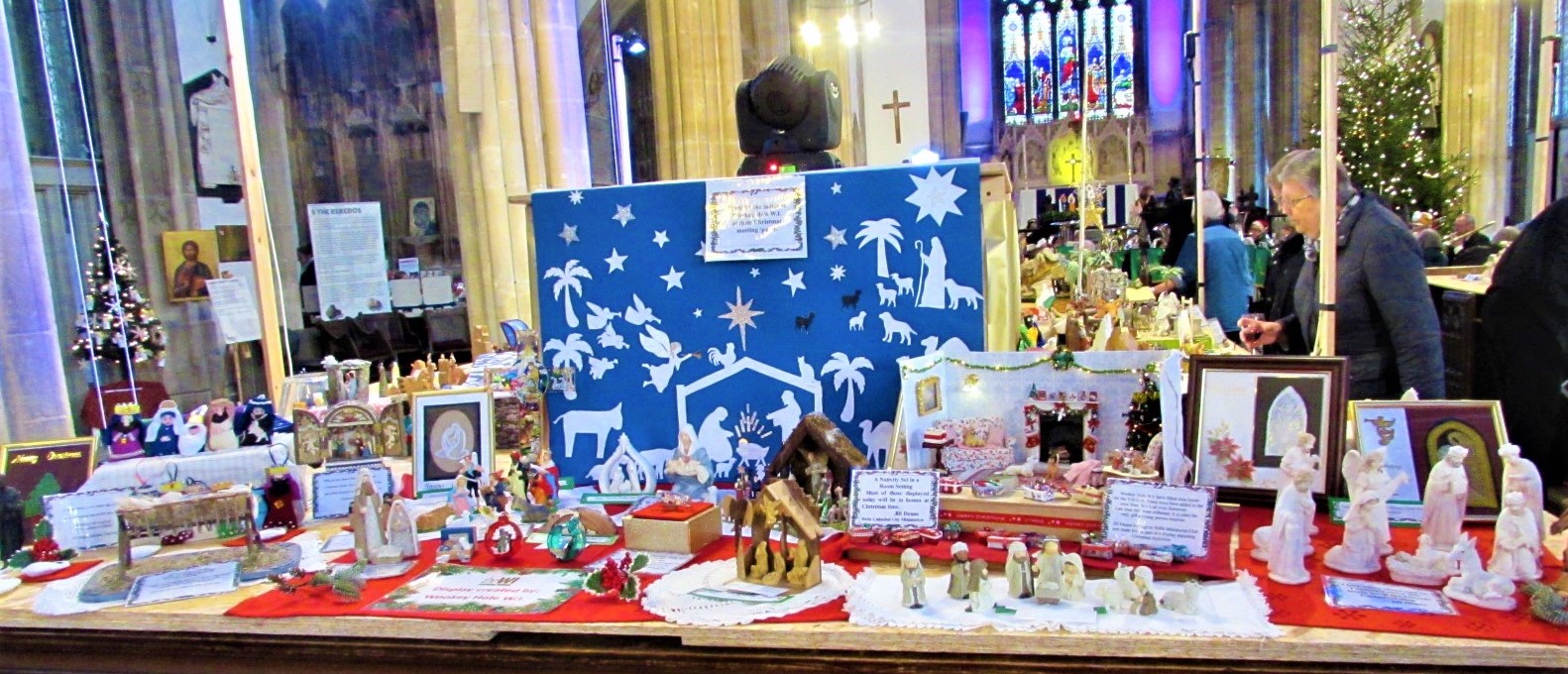 .Wells