Service 67
Burnham-on-Sea to Wookey Hole
Operated by Mendip Community Transport/ Somerset Accessible Transport
SERVICE DISRUPTION
Due to the closure of Wells Road between Monday 6th January and Monday 24th February 2020 (inclusive) Service 67 will be unable to provide through journeys between Burnham and Wookey Hole/Wells via Wedmore.
The service between Burnham and Wedmore is operating as normal.
There is NO access to the 67 bus between Wedmore and Wookey on weekdays. There is also a temporary timetable in place between Wookey Village and Wookey Hole.
The Saturday service will continue to provide a through service between Burnham and Wookey Hole.
We apologise for any inconvenience caused.
Details

Category: Uncategorised
WOOKEY HOLE W.I. JANUARY 2020 MEETING REPORT

We had a good attendence despite the seasonal colds taking it's toll. Lavinia gave an excellent report on the AGM that took place at Wellsprings.

Nearly £800 was collected at the meeting to help flood victims in the North of the Country.

Jill thanked everyone who had taken part in the various W.I. Christmas activities. These included shoe box gifts for
the YMCA, seasonal 'goodies' for the food bank and taking part in the WI Carol Service in Wells Cathedral. Wookey Hole W.I. had also created an impressive display of Nativity related items at the renowned ativity Festival in St Cuthberts Church in Wells.

Our speaker was Westbury-sub-Mendip W.I. member Nicky Amos. She has become a National Trustee and told us of the
W.I. journey that has led to this position. She has had a productive and inspiring life spending much time in the Middle East where she worked in banking and raised her two children. However twenty years ago she and her family returned to England and settled in Westbury -sub- Mendip.

A rather enthusiastic W.I. neighbour encouraged her to join the W.I. and so it all began. She found friendship and an introduction to the local Community. Her involvement grew and she was invited to go on an Environmental Awareness course. This led to the Public Affairs Committee which she eventually found herself chairing. She was
already a Trustee of Almshouses and now she was a Charity Trustee for thw W.I. Both were quite different.

She has now progressed to the position of National Trustee. This is again a different challenge involving a large team of
personnel and much travelling and comittment. No doubt Nicky will tackle her new role with determination and dedication .The W.I. is a very important part of her life and we are proud of her achievements.
Pat thanked her for her inspiring talk . She judged our competition for a W.I. article .1st Jill.. 2nd
Rose..3rd Pat. Flowers were 1st.Sue B..

2nd Myrtle...3rd Sue H.

If you are new to the area and have read about what belonging to the W.I. has done for Nicky . please come along and meet us. 1st Monday of the month.

2.30pm at Wookey Hole Community Hall. You will recieve a warm welcome.

Jill Deane.
Photo attached of the
Wookey Hole WI display at the Nativity Festival in St Cuthberts Church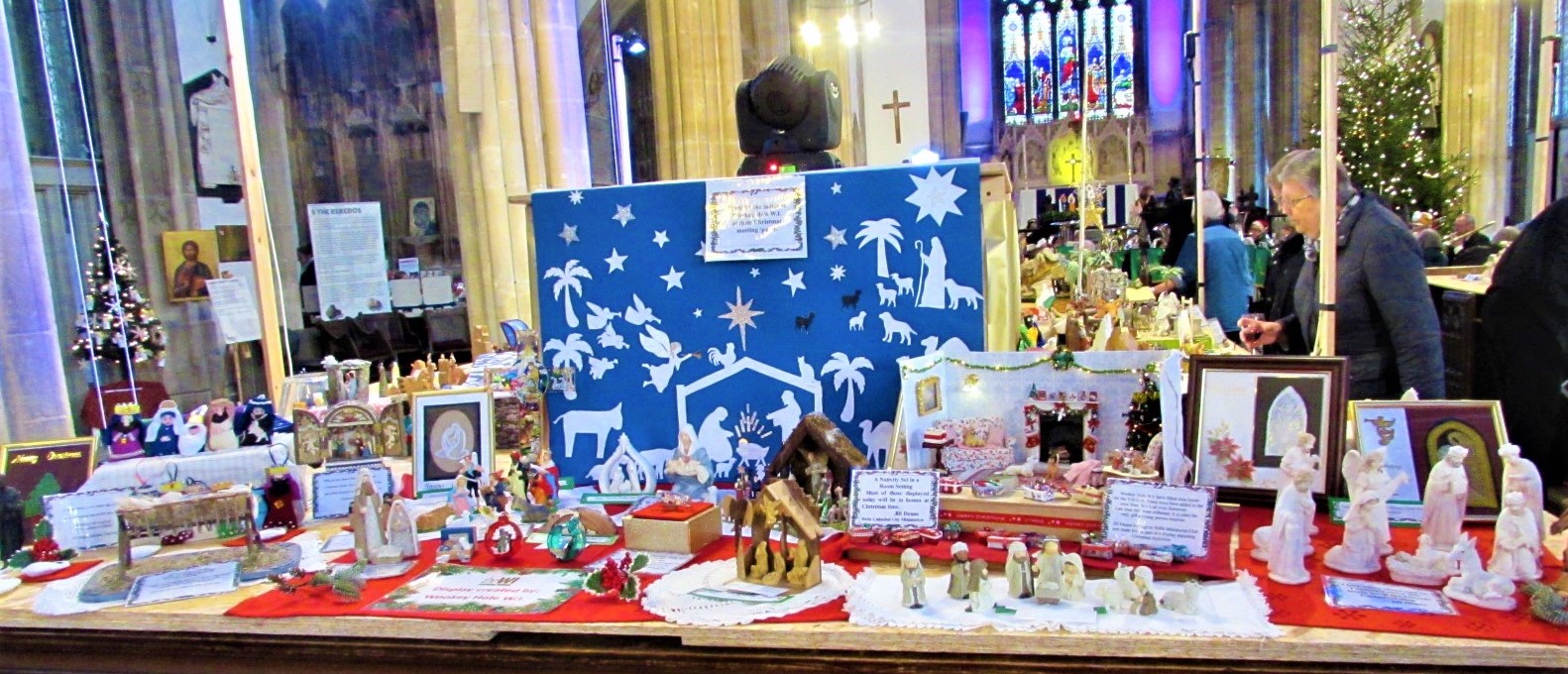 .Wells
Details

Category: Uncategorised
Wookey Hole W.I. Report of June Meeting
President Jill welcomed everyone including our speakers
Steve Mewes and Shelley.
We recently had an afternoon tea party at Jills house. The
weather was kind and it was a great success.
Plans were made for a visit to the Lavender Farm in July
which we are looking forward to.
At our recent AGM we lost two committee members and gained
two new ones. Jill welcomed Pat and Lavinia to the team
and thanked Elizabeth and Rose for their hard work.
Competition cups were awarded to Jill and Jan .
Steve who is Campaign Manager for Somerset Wildlife Trust,
spoke to us about Somerset Nature and Climate change.
He grew up locally and first became interested in wildlife
when he became concerned about the plight and treatment of the whales in
our oceans
He stressed that we all have to change to improve our planet.
Some things are being done but not enough. CO 2 levels are increasing at
an alarming rate.
Somerset is a county under threat by climate change as 15%
of the county is at, or only slightly above, sea level. Extreme weather
conditions are expected to worsen
and we need to adapt and plan ahead for changes in the
future .Wildlife is being affected by the changes. I t certaily made us
think .
Lesley H thanked him and Shelley . It is a subject that
particlarly interests Lesley
Competition for a painting / drawing of a bird . 1st
Jill......2nd Sue B .....3rd Sue H.
Flowers....1st Pauline J ...2nd Sue H .......3rd Pat. As usual
the many flowers were beautiful
Tea / cake and a chance to chat followed . New members or
visitors welcome .Ring 675477 if interested.
Jill Deane ....Wookey Hole W.I. Photo of some of our members and
guests at our recent tea party attached.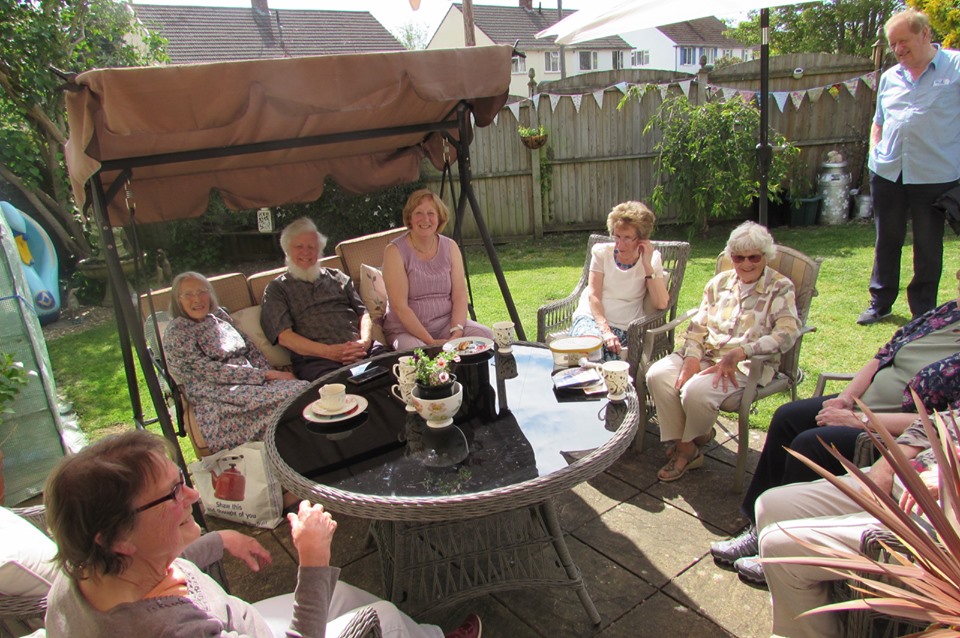 Details

Category: Uncategorised
This email address is being protected from spambots. You need JavaScript enabled to view it.
Website https://publicaccess.mendip.gov.uk/online- applications/ Letter Mendip District Council, Customer Services, Cannards Grave Road, Shepton Mallet, Somerset BA4 5BT
Details

Category: Uncategorised
Fire and Tempest at Wells Cathedral
There will be magnificent tempest and earthquake, spiritual battle and the voice of God at Wells Cathedral on 30th March, when Wells Cathedral Oratorio Society and the English Symphony Orchestra present Felix Mendelssohn's Elijah.
The Oratorio Society will be joined by soloists Elizabeth Atherton (soprano), Katy Bray (mezzo soprano), Peter Auty (tenor) and Ben McAteer (bass) for this, one of the most important choral works of the nineteenth century in the great tradition of Bach and Handel. The Conductor is Matthew Owens.
Last performed by the Society in Wells in 2006, the audience can once again experience the power, excitement and tension of this epic
musical drama telling the story of the prophet Elijah.
Felix Mendelssohn said, 1838: "I imagined Elijah as a real prophet through and through, of the kind we could really do with today: Strong, zealous and, yes, even bad-tempered, angry and brooding—in contrast to the riff-raff, whether of the court or the people, and indeed in contrast to almost the whole world—and yet borne aloft as if on angels' wings."
Details

Category: Uncategorised