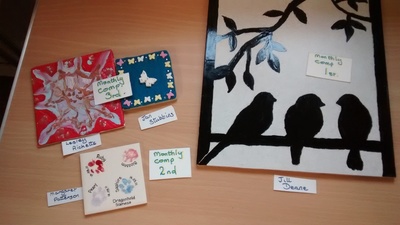 President Jill Deane welcomed our speaker for October, local artist Phillipa Threlfall, who told us about her career in mosaic making. For more than fifty years Phillipa has been enhancing public spaces all over the country, and beyond, with her murals. Although we are familiar with the local ones that adorn our local Tesco stores, she also showed us pictures of more unfamiliar ones from elsewhere.
Her career came about more by accident than design, as her original speciality at college was illustration, but she had a second string in ceramics. Her work in standard teapot-like three dimensions not being as satisfactory as she and her tutor hoped, it was suggested that she try to work on the flat, and her subsequent commissions sprang from that.
She does a great deal of research for her designs, she incorporates as much as possible of the history of the place, buildings of note, local industry, distinguished people and maps, street plans and coats of arms.
Her early work was very massively concrete, and needed a considerable amount of heavy lifting to install. But after her marriage her husband, Kennedy Collings, was able to help with techniques and new materials that he'd learned about while working for Clarks. So she was able to get up from the floor where she'd been doing a great deal of kneeling, and stand to assemble her pieces on a vertical support of polystyrene, and use various resins and fibreglass.
Some of her earlier work has been demolished or otherwise disappeared in the redevelopment of the buildings and streets on which they were displayed. Some have been rescued and moved, not always with happy results, the toads of Taunton were vandalised in their new home. One rescued piece from Bristol is still fragmented in her studio as a new home hasn't yet been found for it.
We are all very familiar with her smaller work, the terracotta tiles sold at The Black Dog adorn many of our doors, the 'Very fine cat' is particularly popular. Although none of us aspire to her skill, four bravely artistic members entered our competition for a decorated ceramic tile, which Phillipa kindly judged for us.
Lesley R. thanked Phillipa for her fascinating and entertaining talk.
Rose Docherty
Details

Category: Clubs
Report of the September 2017 meeting of Wookey Hole WI
We welcomed Patsy Barrow, with Antonia to handle the computer display, at our September meeting. The subject of the talk was the St Cuthbert's reredos in the North and South transepts of the church.
Until the mid nineteenth century the walls in those areas were smoothly plastered, but restorers found that it was originally quite different. When the plaster was chipped away they found niches where statues had once stood, and the packing in the gaps were the broken fragments of the statues themselves. At the time it was felt that they were important relics, but no-one knew what to do with them. So they were looked at, put away, moved around and generally neglected until quite recently. And the niches were often used to hold candles, which does the surface of the stone no good at all.
But a big and expensive effort has now been made to properly conserve and catalogue the pieces. Although they are in a rather poor state, it is still possible for knowledgeable eyes to detect the symbols, such as the wings of the Angel Gabriel and the long hair of the Virgin Mary that allow identification of the statues. Enough traces of paint remain to make it plain how vividly colourful they originally were. In digital form they will be available on the Internet for others to study.
They were in place for only a hundred years, the evidence for the construction of the reredos, which were the background to the altars of chapels financed by wealthy patrons to buy their way into Heaven, dates from the mid 1400s. The destruction was done on the orders of the strongly Protestant young King Edward VI in the 1500s. Sadly, vandalism of artworks still goes on.
Patsy was thanked by Myrtle for her fascinating and detailed talk. Patsy admitted that it was actually her birthday, so President Jill Deane conducted us in singing 'Happy Birthday', and, as if by magic, Sue H appeared from the kitchen with a cake bearing a single candle. As an added treat, Lavinia had been inspired by Jamie Oliver's '5 ingredients' recipe, as featured in this month's edition of WI Life, and had baked chocolate and orange shortbread. Delicious.
Rose Docherty
Details

Category: Clubs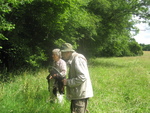 We'd like to invite you to our weekly butterfly walks.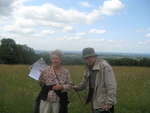 From April to September we walk up the Mendips once a week recording all the butterflies we see. It's always the same walk, meeting at the Caves car park and going up from Ebborlands Stables and down School Hill, but the day and time varies according to the weather - we try to catch the warmest brightest day.
Details

Category: Clubs
Wookey Hole WI was founded on Feb 12 th 1947 at an enrolment meeting in Wookey Hole Club, attended by 38 prospective members. .Numbers rose steadily until, in the mid 1950s there were 80 members, then declined, partly due to the withdrawal of the evening bus service to and from Wells. By 1985 there were less than twenty members, and the Institute nearly went into suspension, but numbers rose again, currently the membership stands at 25. The Institute also changed from evening to afternoon meetings. Over the years it has met in every available venue in the village, even having drama rehearsals in the church. Now meetings are held on the first Monday of every month, in Wookey Hole Community Hall.
Details

Category: Clubs