http://wookeyholecinemaclub.weebly.com
All films shown at the Community Hall. £6 adults Under 16's £3 Doors usually open 7pm Film show starts 7.30
See our website for trailers and more info.
Details

Category: Clubs
The Wookey Hole Club, built in 1884, has a long and colourful history. Minutes of the Club Committee are still in existence from its inauguration through to the present day, with only two periods, 1940-1949 and 1974-1980, having been mislaid. The content of these documents gives a fascinating insight into the recreational and social behaviour of village residents over the past century.
Details

Category: Clubs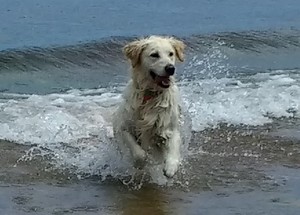 As Sue H said when she thanked Bob Musgrave for his talk on taking better photographs, we all learned something new at our November meeting, even those who have been keen photographers for years. Not the technical things about equipment that used to be a time consuming problem, digital cameras and phones make that easy. The best photos result from taking a bit of trouble setting up the shot to be appealing to the eye.
Bob told us that he has taken inspiration from the way the Dutch Master painters composed their pictures. One of the things that hadn't occurred to us was that the most interesting pictures read from left to right, just as we have learned to read print. And it's a good idea to have your point of interest slightly to the right of centre. He demonstrated this by showing one of his slides reversed, and we could see for ourselves what a difference it made.
He advocated that we might exercise patience in order to take the picture we wanted, not easy in a popular tourist honey pot. It pays to wait for people and cars to move away to give a clear shot at the scene you love. On the other hand, with fleeting opportunities it's best to just take it and hope, indeed take as many shots as you can, from as many slightly different viewpoints as possible, with digital it's then easy to choose the best of the bunch.
Bob also demonstrated the use of the zoom, with a series of shots of Glastonbury Tor getting progressively closer, cutting out the foreground to isolate it in all its splendour. The Tor was also the centre of a beautiful study of a rainbow, a combination of being prepared to be in the right place, and seizing the moment.
We presented Bob with a spread of action photos to judge in our competition, and he had no hesitation in awarding first place to Jill's capture of her dog Mia's joyful frolic in the waves. It filled the criteria of filling the frame with the subject, dog and sea, without distractions.
Rose Docherty
Details

Category: Clubs
A few years ago Lucy White was invited to think of a social club that could be useful in Wookey Hole in gathering people together for enjoyable times.
Lucy loves playing Scrabble and wanted to find likeminded people so started a Scrabble Club by delivering notices about it door to door .
Details

Category: Clubs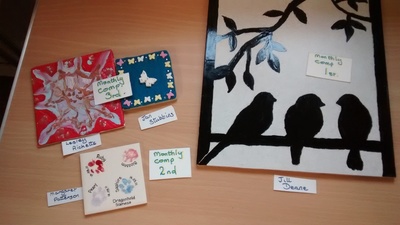 President Jill Deane welcomed our speaker for October, local artist Phillipa Threlfall, who told us about her career in mosaic making. For more than fifty years Phillipa has been enhancing public spaces all over the country, and beyond, with her murals. Although we are familiar with the local ones that adorn our local Tesco stores, she also showed us pictures of more unfamiliar ones from elsewhere.
Her career came about more by accident than design, as her original speciality at college was illustration, but she had a second string in ceramics. Her work in standard teapot-like three dimensions not being as satisfactory as she and her tutor hoped, it was suggested that she try to work on the flat, and her subsequent commissions sprang from that.
She does a great deal of research for her designs, she incorporates as much as possible of the history of the place, buildings of note, local industry, distinguished people and maps, street plans and coats of arms.
Her early work was very massively concrete, and needed a considerable amount of heavy lifting to install. But after her marriage her husband, Kennedy Collings, was able to help with techniques and new materials that he'd learned about while working for Clarks. So she was able to get up from the floor where she'd been doing a great deal of kneeling, and stand to assemble her pieces on a vertical support of polystyrene, and use various resins and fibreglass.
Some of her earlier work has been demolished or otherwise disappeared in the redevelopment of the buildings and streets on which they were displayed. Some have been rescued and moved, not always with happy results, the toads of Taunton were vandalised in their new home. One rescued piece from Bristol is still fragmented in her studio as a new home hasn't yet been found for it.
We are all very familiar with her smaller work, the terracotta tiles sold at The Black Dog adorn many of our doors, the 'Very fine cat' is particularly popular. Although none of us aspire to her skill, four bravely artistic members entered our competition for a decorated ceramic tile, which Phillipa kindly judged for us.
Lesley R. thanked Phillipa for her fascinating and entertaining talk.
Rose Docherty
Details

Category: Clubs